Reminders:
If your camera one of Canon C200/C300/1DX, please select the correct type;
ZCAM camera: need to format SSD to exFAT format at first, then the camera will recognize it.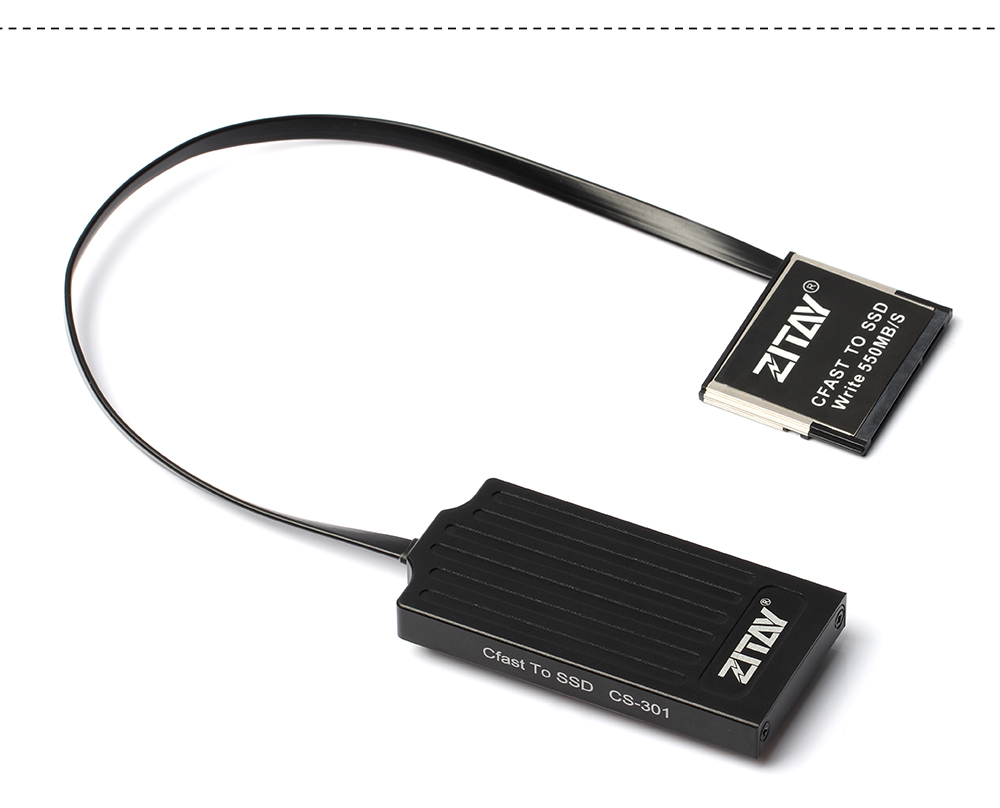 Specifications:
- Main Material: Aviation-grade 6061 Aluminum Alloy
- Processing Way: CNC Engraving
- Surface Processing: Anode Hard Oxidation Process
- Fixing Methods: Standard 1/4 Screws, 3/8 Screw
- Input Voltage: 7V-28V
- Input Current: <1A
- Size: 77x41x9mm
- Weight: 75g
Features:
1. can completely replace the expensive CFAST card;
2. it is safe and reliable, and the security of the data is completely deponds on SSD; once the data is written into the SSD, the security is independent of the converter;
3. the capacity can be determined automatically, the maximum capacity of a single channel is 1T, and the maximum of two channels is 2T (This listing is single channel)
4. the aviation grade aluminum alloy cnc processing, small size, easy to install;
5. copy data is convenient, no need to open the converter, just need CFAST card reader to copy data to the computer;
6. no external power supply, directly powered by the CFAST card slot .
7. Two 1/4" screw holes on the bottom , easy to fix, can be easily fixed to the shoe mount or any other plate with 1/4" screw mount
Application:
Support Canon XC10, Canon C300 MARKII, Canon 1DX Mark II ,Canon C200
(special fit for Canon , no external power supply, can close the door)
Blackmagic URSA, Blackmagic URSA Mini, ARRI Amira, ARRI ALEXA MINI
BMPCC 4K ZCAM E2
How to Use It? - Install the SSD: Use the standard Phillips screwdriver to remove the two screws at the rear of the converter. Insert the solid state drive into the converter (pay attention to the direction), insert it into the end, then cover the small cover and tighten the screws; - Fix the Adapter: There are 2 1/4 screw holes on the bottom of the converter. Secure to the appropriate position with the standard 1/4 screw or hot shoe screw; - Insert the CFAST card into the CFAST card slot of the camera to be used normally (Note: For CANON cameras such as C200, C300, 1DX2 and other models, the CFAST card slot cover can be fully closed. You can consult customer service for specific methods, because the different models of the machine, the method is slightly different.) - Copy Data: You can copy the data without opening the converter, just need to insert the converter's CFAST card into the CFAST card reader, connect to the computer. Note: CFAST to SSD adapter is included, excluding SSD.
Package Included: - 1 x CFAST To SSD Adapter - 1 x Adhesive Sticker - 2 x Mounting Accessories - 1 x Screwdriver
(Card reader is optional)