About Shipping:
Please select the free shipping when place order, we'll ship by Fedex/DHL/UPS,
delivery time will be earlier than the default system shows.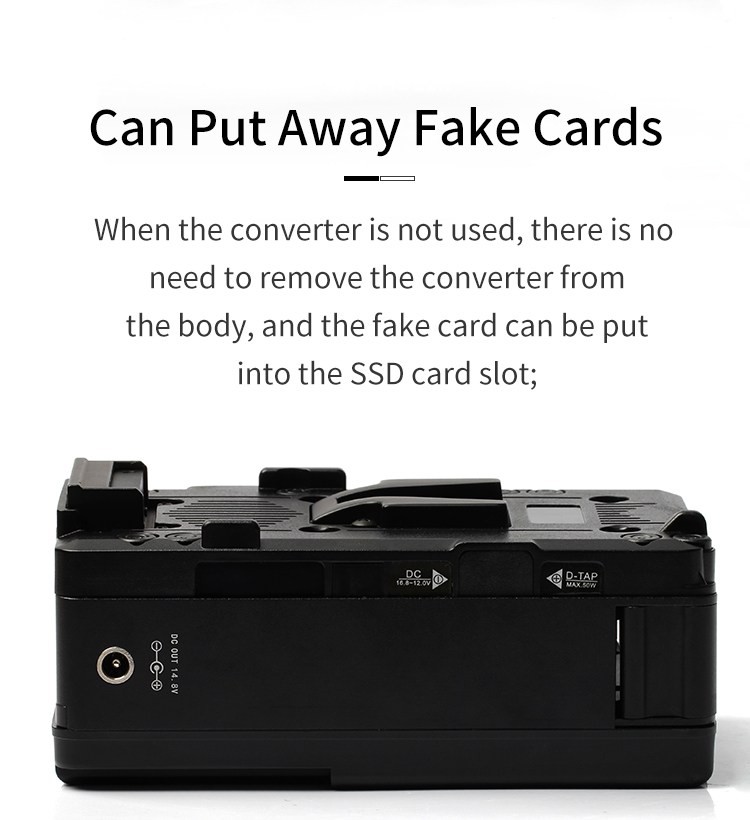 ZITAY CFast2.0 To SSD For BlackMagic URSA MINI Broadcast Storage Card Photography Accessories

Attention:
- For Samsung 860 pro single card, it can shoot 4.6K RAW 50P without dropping frames.
- It is recommended to buy SSD for Samsung 860 pro or SanDisk Extreme series, and try not to use SSD that have been on sale for more than one year, because the SSD technology is updated too quickly, and cameras are using the latest technology, and too old SSDs may have compatibility issues.

Advantages:
1. Stable and reliable: The old model of CFAST to SSD is stable and reliable after a large number of long-term practical applications. The new model is only improved on the basis of the old model, so the stability is better;
2. Small size: the thickness is only 28.7mm, and the height is exactly the same as that of V mount plate;
3. Precision machining: all parts are processed by aviation-grade aluminum alloy CNC, and the surface is hard anodized;
4. Sealed structure: SSD is completely sealed, which can effectively protect the SSD from damage;
5. Put away dummy card: When the converter is not in use, there is no need to remove the converter from the body, and the dummy card can be put into the SSD card slot;
6. Senior engineers devote themselves to development: use with ease, safe and stable to use;
7. Support dual-channel SSD: up to 4T hard disk;
8. There is no loss in reading and writing speed, surpassing that for Lexar CFAST!

Features:
- When your machine shuts down, the converter automatically powers off.
- The CFAST shell is filled with elastic glue to prevent the wire from being broken.
- Front and rear sides with battery mount plate.
- Compact size and lightweight.
- Easy to use.

Specifications:
- Dimensions: 95*75*25mm
- Weight: 650g
- Body material: aviation grade 6061 aluminum alloy
- Processing method: CNC engraving
- Surface treatment: anode hard oxidation process
- Input voltage: 7V-28V
- Input current: <1A

More Details:
Complete electromagnetic compatibility, signal integrity, SSD SATA3.0 communication bandwidth up to 6Gbps, very high requirements for cables, each additional connector means that the signal is weaker. The CFAST card housing of the adapter and the SSD hard disk holder are integrated for better signal integrity.

Built-in high-efficiency low-ripple DC/DC step-down board, which fully meets the requirements of SSD for power supply. The main chip adopts original imported chip, which has protection functions such as overvoltage, overcurrent, short circuit, anti-insertion, electrostatic ESD, surge, etc.

Many photographers around the world use it for a long time, and a large number of users have verified the products, and there has never been bad feedback, and the quality is guaranteed.

Product quality is determined by many factors, the first is design, the second is accessories, and the third is assembly.

Specially customized ultra-soft and ultra-thin SATA3.0 cable, regardless of the cost of investment, only for the high requirements of film-level photographic equipment.

Recommended SSD Models:
Supports for Lexar CFAST2.0: write speed is 445MB/S, which is easily surpassed by SSD.
1. For Samsung pro 860 series, the most expensive, but the best performance, 860 pro belongs to the high-end series of SSD.
2. For SanDisk Extreme Series, slightly cheaper and with good performance.
3. For SanDisk X400 series.

Package Included:
- 1 x Dual-Side Mount Plate CFAST2.0 To SSD Box
- 1 x Allen Wrench

Note: Battery and SSD are not included in the package.